Offset print means a guarantee of the high quality product realized within a genuinely short time. We offer high-edition print of all advertising materials, official documents, journals, books, wraps, or jobs possible. Our continuous investments in the plant and machinery we own allow us to realize even highly diversified orders. We print in five colours and additionally offer the painting option, all within one printed sheet course. We use coated, non-coated, self-copying, self-adhesive, and other papers as well as bases.
CALENDARS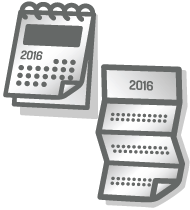 A day well-planned is crucial for our well-being. In order to secure that for our clients, we provide various calendar types: board, tripartite, desk and in the form of a book as well as realize non-standard calendar orders. We also offer diverse, individualized trims to the ordered calendars.
CATALOGUES, BROCHURES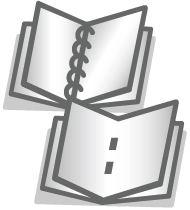 A well-"clad" company offer is half of its professional success; therefore we care to offer our clients the print of company catalogues or brochures attractive for a firm's potential clients. We can boast of a wide selection of this particular print's forms, materials and trims.
LETTERHEAD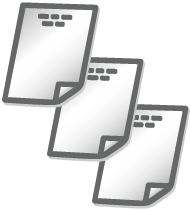 Although electronic mail has been reigning supreme for quite a time now as a business communication form, there are still situations requiring resorting to traditional paper documentation. Aesthetically attractive letterhead print suggests the firm's prestigious position while highlighting its professional image.
NOTEBOOKS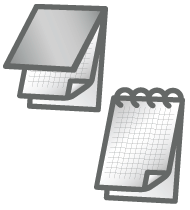 One can hardly imagine a business or staff meeting without a host of notebooks scattered around the table waiting to be used. We propose to our clients personalized notebooks which, apart from their typical utilitarian function, can also be offered to a firm's own customers as gifts and a form of this firm's advertisement.
FILES & BINDERS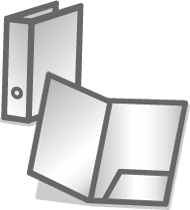 Promotional materials require special binding – and we can provide that to our clients, too. The attractive form and perfect quality of our file and binder prints are always a hook-on to whoever they may be offered. We make these prints from cardboard but they can additionally be laminated, snap – or rubber-closed, with or without a handle, even sporting a business card space – and many others.
DESK PLANES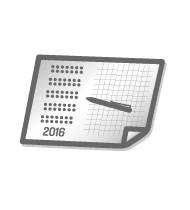 Our hectic lifestyles oftentimes make us forget things. If we need to quickly jot down any "to do" matter, a desk plane comes handy – it is always there for us and we do not have to worry that we will lose it. Desk planes typically have a calendar and notepad prints on. They comprise multipage blocks of paper sheets glued together and thus easy to dispose of if the block's topmost sheet gets filled in completely.
POSTERS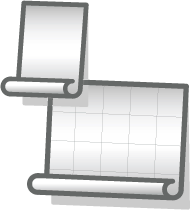 Posters are important elements of each and every advertising campaign. A well-designed poster cannot but attract people's attention to the information on it. We print posters on a variety of papers and in a variety of forms.
LEAFLETS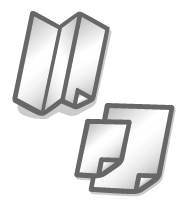 Advertisement leaflets constitute the most popular advertisement carrier. They allow to quickly convey significant information, and are available to individual clients. Our firm prints leaflets in many formats and on diverse paper types. Leaflets can be painted, grooved, stamped, gilded etc.
BUSINESS CARDS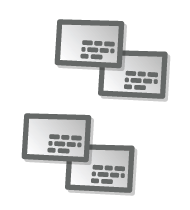 Be it not for the business card, the business world would not have a chance to be demarcated as "business" at all. A business card must be perfect, both in its content and form. The latter should therefore have the quality of elegance, legibility and condensation. The standard business card is 90 x 50 mm. The range of business paper prints we offer is very wide, with a multitude of trims.
ENVELOPES
As a wrap for correspondence, the envelope suggest the latter's character. When toned down and classic, it services official documentation or offers; an envelope which is colourful and decorative in form can hide Christmas greetings or a special offer.
CARTONS, BOXES, WRAPS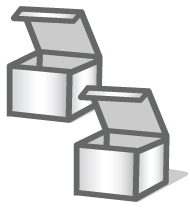 Wraps is a topic-fleuve, limitless as imagination itself. We produce manifold wraps, e.g. classical or collective which can serve various functions: utilitarian, decorative etc. We have a wide range of technical possibilities enabling us to produce wraps of varying types at our disposal. The types in question are, for example, multi-point sealed, with or without a window, decorated with gilt or imprints.
CARDS, POSTCARDS, INVITATIONS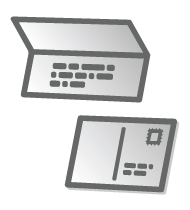 Occasional prints is the setting ideal to demonstrate your firm's printing skills, both when it comes to designs and materials used. We choose from a whole palette of decorative paper prints, plain and grainy and in the full gamut of colours. Individual elements present on so obtained products can additionally be stamped, impressed and gilded. In the end what we receive is an unconventional, high-quality, really genuine article.